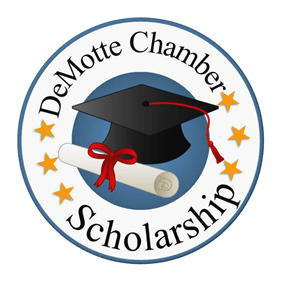 DeMotte Chamber of Commerce Offers College Scholarship
The DeMotte Chamber of Commerce is proud to offer a $1000 college scholarship to business-bound high school seniors.
Eligible students must be a graduating student of KV High School or Covenant Christian High School. The student should also have a C average or higher and be pursuing a business-related major. The application should accompany a paragraph about why the student has chosen a business-related field of study. A recommendation from a teacher, employer, community leader or organization is helpful, but not required.
Applications can be obtained on the Chamber website, www.DemotteChamber.org or from your local guidance counselor.
Completed applications must be postmarked by May 1, 2019 to:
DeMotte Chamber of Commerce
PO Box 721
DeMotte, IN 46310